Ethereum's Sentiment on Twitter Becomes Extremely Positive as DeFi's Value Tops $80B
The Ethereum (ETH) network has been experiencing an uptick in activities and this made crowd sentiment on Twitter extremely positive, as disclosed by IntoTheBlock.
The Data analytic firm noted:
"Twitter's sentiment about Ethereum is disproportionately positive. In recent weeks, the Ethereum narrative in social media like Twitter has been extremely positive."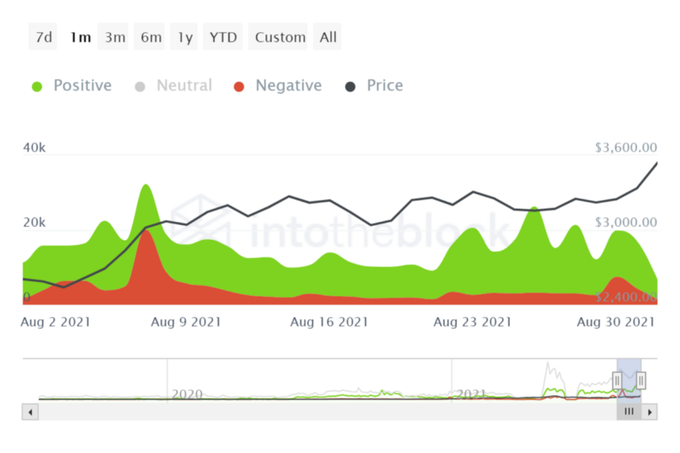 IntoTheBlock added:
"Ethereum futures bullishness continues. Most Ethereum futures remain in contango, indicating a strong positive sentiment towards the crypto asset. A contango momentum indicates that the futures price is higher than the spot price."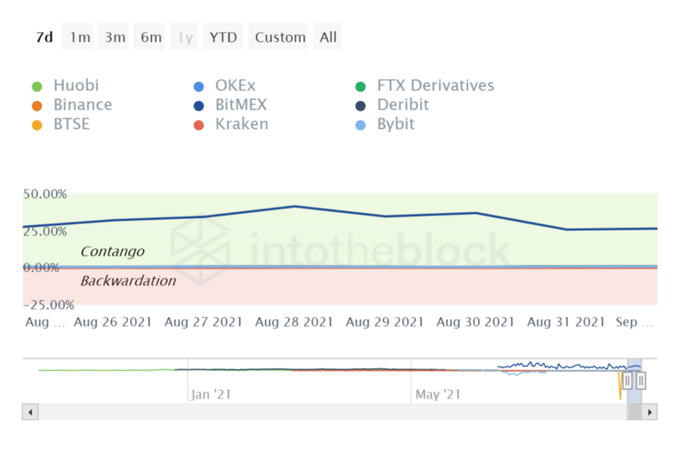 The crypto community has been giving the Ethereum network a keen eye after it underwent its first deflationary block on August 5 based on the London Hardfork or EIP 1559 upgrade.
This is because Ethereum supply was made scarce every time Ether was burnt after being utilised in transactions.
This, coupled with the fact that Ethereum may be experiencing a liquidity crisis, is expected to push ETH prices further. IntoTheBlock explained:
"Just in the month of August, more than 781k ETH has been withdrawn from exchanges. This, combined with the amount of ETH deposited in the 2.0 contract + the amount locked in DeFi (~ 9.7m) + the increasing burn rate driven by NFTs, may push a liquidity crisis in Ethereum."
DeFi's value surpasses $80 billion
The decentralised finance (DeFi) sector took the world by storm in 2020 after its value grew by fourteen times. Its presence in the crypto space continues to be felt because it has become a billion-dollar industry valued at $81.85 billion.
Experts expect this industry to experience more growth in the coming years. For instance, Matthew Roszak, a veteran crypto investor, stated that the DeFi sector would see 10x growth to become an $800 billion industry thanks to increasing mainstream crypto adoption, the global chase for yield, and increased inflation.
DeFi is founded on blockchain-based smart contracts that fulfil certain financial functions based on the underlying code.
According to a recent report from blockchain analytic firm Chainalysis, the United States had the highest DeFi adoption rate, followed by Vietnam, Thailand, China, and the United Kingdom.
Image source: Shutterstock